Our Story....
Coffee.  I've started each morning of my adult life sipping this amazing drink, contemplating my day.  I remember afternoons visiting my grandparents drinking the best coffee I've ever had....looking back, considering the less-than-fresh state of the coffee and rock-hard farm well water, maybe it was the company that made that coffee so good.  Regardless, I've always believed coffee is the fuel for great conversation, a way to relax and energize, or simply to enjoy moments with friends and family.  As I became acquainted with the nuances and art of great coffee...I enjoyed and appreciated it even more.  So, I sought out small artisan coffee shops as I traveled and my passion for a great cup of coffee was born.
Coffee is good...GREAT coffee is rare!  In the ongoing search for great coffee, my wife Danielle and I realized fresh roasted coffee was a rare commodity in our rural area.  Other than a remote coffee shop offering fresh "brewed" coffee using beans roasted elsewhere, there was nothing to be found in the local market for fresh custom roasted coffee.  With an understanding that beans purchased from a store shelf or even at one of those corporate coffee places were at best, months old, we began our search for fresh roasted coffee beans.  My observation; the coffee I was drinking was simply...old.  As my passion for fresh beans advanced, I developed a natural interest in the art of roasting and soon became a home roaster studying the technical aspects of roasting from every angle and point of view.  My attitude was, if I can't find local fresh roasted coffee, then I will learn to roast those beans myself!  That, is exactly what I did and the quest for the ultimate roast was on!  Once I began drinking fresh roasted coffee I knew I could never go back to drinking from a can or sealed bag with a one year expiration date.
When our hobby grew larger and the desire to improve became an obsession, we created SOJO Coffee Company to share our roasting hobby with others.  Similar to the rise of micro-breweries that sprang up about 15 years ago and challenged everyone to think outside the box, small batch micro-roasters like SOJO are now producing some of the most unique and complex coffees that can be found anywhere.  The concept of roasting one day and shipping the next seemed like common sense to me.  Making coffee the old-fashioned artisan way, in small custom batches produces unmatched quality and consistency in the cup.  So here we are today, operating from a small unassuming roastery producing some of the best coffee I've had anywhere, and we hope you agree!
What is SOJO?  I've been asked lately, what is "SOJO"?  Our name SOJO actually started as "O.J.O", my daughter's initials.  OJO was the first name we started to seriously consider as a new business.  However, in late June 2014, my young sister-in-law Shelly lost her brave battle with cancer.  In her memory, we placed the "S" on OJO, and "SOJO" was born.  It just fit our business and made us happy to know a part of Shelly's life was there with us.  We remember Shelly's kind smile and infectious giggle everyday.  We miss you Shelly, this one's for you.
Who are these infamous "Three Sisters" anyway?  One late night in the roastery, I developed a 3-bean blend so outstanding…I just knew it would be a big hit and become one of our favorite coffees! But what to call it….? As I searched for inspiration, a picture in the shop caught my attention, an old photograph of my wife Danielle and her two sisters. It was perfect, those three little sisters; Dawn, Danielle and Shelly! ... "Three Sisters" Custom-Roasted Coffee was officially born!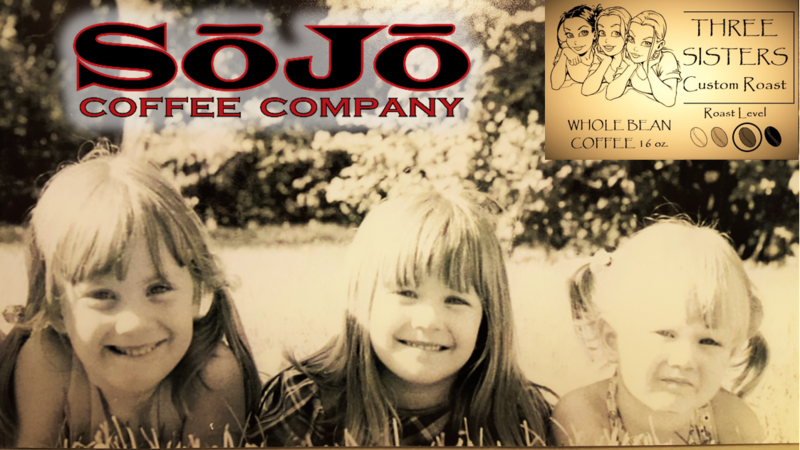 ---
Where are we?  We operate from a modest building in a small rural town; Lakefield, MN, the only place on earth I can call home. I'm proud to be part of this little place, a close community filled with great people and I hope you can visit us someday!  Click here to learn more about where we come from: Lakefield, Minnesota. 
Although we do not yet operate an actual coffee shop, it is part of our future plan and we are having a ball restoring an old building and creating an atmosphere suitable for our future coffee shop.  As of now, we operate a coffee bean roastery and are busy making sure each and every roast we produce is of the highest quality.  We spend may hours trial roasting and experimenting with different roast levels and profiles and will soon be offering more of our fine coffees!  So check back often! 
Caffeine is our friend, but it keeps us up at night!   
---
A special thanks goes out to all of you that support our passion and keep us roasting!  Stay caffeinated my friends and brew on..